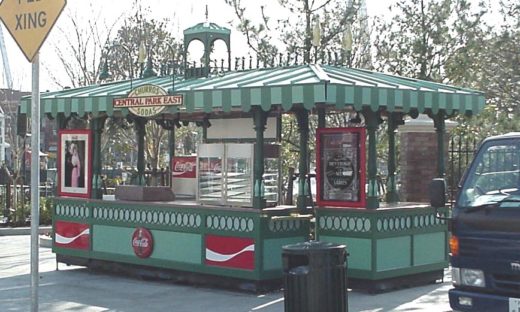 Tourist attraction clients have requirements that may include outdoor locations, weather and theft proofing, mobility, custom theming and signage, high volume locations and food service and retail products.
Retail and food service carts, kiosks, RMUs, wall shops, merchandisers, display fixtures and prefabricated modular buildings provide an effective, low cost solution that can be moved if needed.  In addition to designing and manufacturing, our services include project management, engineering expertise to create the drawing submittals, color renderings, shipping and logistics support, installation and training.
Our tourist attraction customers have included owners of: zoos, amusement parks, theme parks, water parks, national and city parks, museums and historical societies, third party gift shop managers, contract and franchised food service companies, retail product manufacturers, symphonies, theater production companies, sports teams, arboretums, aquariums, science centers, farmer's markets and more.
We have completed zoo projects in Baltimore, The Bronx, Central Park, Chicago (Brookfield and Lincoln Park), Columbus, Detroit, Houston, Jacksonville, Kansas City, Knoxville, Long Beach, Louisville, Memphis, Minneapolis (Como and Minnesota) Nashville, Pittsburgh, Lansing (Potter Park), Sacramento, San Diego, San Francisco, Santa Barbara, Mendon (Southwick), St. Louis, Toledo, West Orange (Turtle Back), Seattle (Woodland), East and West Berlin, Germany, Hungary, Amsterdam and Austria.
Museums have included 911 Memorial, The Field, Museum of Science and Industry, Henry Ford, Boston Historical Society including Faneuil Hall and Quincy Market, Minnesota Historical Society and others.
Other tourist attractions include Universal Studios in Osaka, Japan and Universal City, CA, Port of LA, Dallas Arboretum, Shedd Aquarium, New York Public Library, Catalina Island, Fairchild Gardens (Miami), Springs Preserve (Las Vegas), Holiday World (IN), Cedar Point, Bayville Adventure Center (NY), Adventureland (IA), Silverwood (ID), Travis Park (San Antonio), Grand Canyon Railroad, Lion Country Safari, Michigan Adventure Waterpark, Ocean Edge (MA), Coney Island, Fairytale Town (CA), George Washington Parkway, National Archives and more.