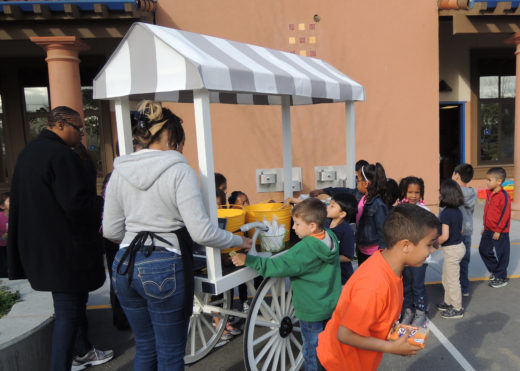 Educational facilities, business, and industry clients have unique requirements that may include coordination with facility designs for service connections, outdoor locations, weather and theft proofing, mobility, unique products and high volume locations. Gift shop managers, booster club volunteers and food service employees may need to provide services at a satellite locations or in locations that are far away from the primary gift shop or cafeteria.  Sometimes the unit may be the primary location.  School breakfast programs have successfully used our mobile carts to bring grab and go breakfast to children on the playground or the school lobby.  Booster club carts provide the ability to take the gift shop to the stadium or sports facility on campus.
Carts, kiosks, RMUs, and wall shops provide an effective, low cost solution that can be moved if needed.  In addition to designing and manufacturing, our services include project management, engineering expertise to create the drawing submittals, color renderings, shipping and logistics support, installation and training.
Our customer partners have included owners of branded food concepts, universities, food service directors, book stores, gift shop managers, schools, factories, office buildings, booster clubs and product vendors.
We have completed over 250 university project locations for Schwan's Food Service as well as Sara Lee, Seattle's Best Coffee, Iowa State University, Oklahoma Community College, JPL Pasadena, Auburn Hills Community College, Marshalltown Community College, Culver Academy, Iowa Wesleyan, Graceland College, Northern New Mexico College, GSA Kansas City, Oakview, Georgia Southern, San Luis Obispo Community College, Michigan State University, University of Iowa, Chowchilla High School, Harvard University, Malone School, Corbin School, Dallas County Schools, Virginia Teen Center, Northern Idaho, Normandale Community College, YC Catering, Clarksville Academy, Travis High School, Framingham University, Baker College, Wisconsin Deaf School, Christ Prince of Peace School, Salvation Army and more.