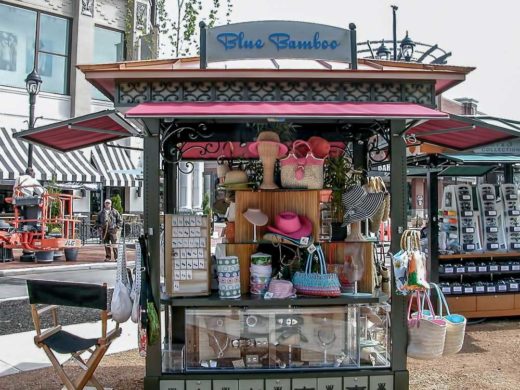 MFI custom designed Retail Merchandising Units or RMUs perform as a "customer intercept point™" in high traffic retail locations. RMUs serve as a "mini store" or satellite location and are typically located in the common areas of shopping malls, airports or other retail outlets.
RMUs are usually leased on a temporary or seasonal basis by the location owner or manager. They may also be owned by the merchant and designed to conform to the design criteria and standards of the retail location.
RMUs may be defined as special purpose retail kiosks. RMUs distinguish themselves from carts in the specialty retail industry by eliminating the traditional wagon wheels and adding retail fixturing and shelving, special lighting used in visual merchandising, and additional security features. RMUs may be located in the common area of the retail center as an island or they may be placed along a wall and become a wall shop. MFI custom engineered and fabricated RMUs may be designed to complement the unique architecture of the location or they may be designed to market a specific product or brand identity no matter where the location.
All MFI RMUs start with a welded and painted metal interior framework. This provides added durability and stability. Our custom RMUs offer creative options to address: size, materials, finishes, storage, merchandising and fixturing, lighting, cash wraps, canopies, security, signage, and mobility. You will select all the dimensions, colors and finishes, fabrics, materials, and other options before we begin to build your RMUs.