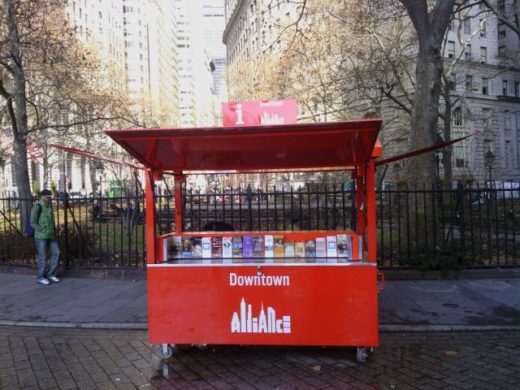 Economic development organizations and municipalities have unique requirements that may include regulatory approvals, mobility and signage.  Designs must also include effective use of product lighting and signage, provisions for inventory storage, cash registers, theft and weather proofing
Our products are used as tourist information booths providing brochure racks, directions, phone charging, advertising, membership sign up, recreation equipment check out and other community resources.  Many times, a city wants to have an economic incubator to give local merchants, entrepreneurs, artisans and craftsmen a place to sell their wares.  The designs must be flexible enough to support a variety of temporary tenants each with unique products.
Carts, kiosks, RMUs, wall shops, merchandisers, and prefabricated modular buildings provide an effective, low cost solution that can be moved if needed.  In addition to designing and manufacturing, our services include project management, engineering expertise to create the drawing submittals, color renderings, shipping and logistics support, installation and training.
Our customer partners have included cities, downtown associations, churches, chambers of commerce, business improvement districts, libraries, parks and economic incubators.
We have completed projects for City of Tolleson AZ, Port of LA, Boston Redevelopment, Springfield MA, Alliance for Downtown NY, Scottsdale AZ, Philadelphia Housing, Travis Park (San Antonio), Durango Public Library, Downtown Ithaca Alliance, Downtown Partnership of Baltimore, Tempe Tourism, Seattle Parks Department and many more.