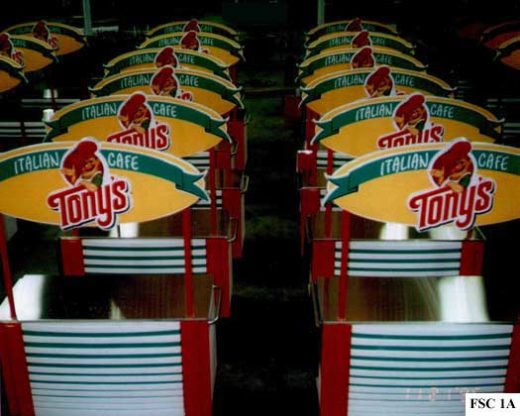 Branded retail merchandise and franchised food service have "sacred cows" in order to maintain consistent brand integrity. These include logos, colors, finishes, architectural details, signage, menus, equipment, and merchandising techniques all designed to market a specific product no matter where the location and how much space is allocated.
Branded carts, kiosks, RMUs, wall shops, commercial cabinetry, merchandisers, display fixtures and prefabricated modular buildings provide an effective, low cost solution that can be moved if needed.  In addition to designing and manufacturing, our services include project management, engineering expertise to create the drawing submittals, color renderings, shipping and logistics support, installation and training.
Our customer partners have included owners of: wireless and cell phone communication companies, the entertainment industry, fitness centers, movie theaters, museums and historical societies, casinos, amusement parks, tourist attractions, national parks, water parks, hotels and lodging, hospitality and foodservice contracting companies, concessionaires, caterers, florists, banks, newspapers, sports teams, bars and restaurants and clothing, toy, souvenir, books and gift manufacturers.  Menus have included coffee, soft drinks, beer, pizza, sub sandwiches, Asian, cupcakes, pastries, cookies, pretzels, sushi, popcorn, kettle corn, soups, hotdogs, teas, smoothies, grab and go items and more.
We have completed branded and franchised retail and foodservice projects for: T-Mobile, I-Wireless, Universal Studios, Sony Entertainment, Harrah's, Caesars Entertainment, Regal Cinema, CycleBar, Wilsons Leather, Field Museum, Wild Republic, Ronald McDonald, Schwan's and Orion Food Service, Tony's Pizza, J&J Snack Foods, Hebrew National, Famous Daves, Little Caesars, Jimmy Buffet Margaritaville,  Crumbs Bakeries, Noble Romans Pizza, Best Foods, Sara Lee, Seattle's Best Coffee, Gevalia Kaffe, ARAMARK, Lancer Hospitality, The RK Group, Photogenic, Spirit of the Red Horse, Poseman Books, Vie de France, Paul Bakery, Cinnabon, Mrs. Fields and more.