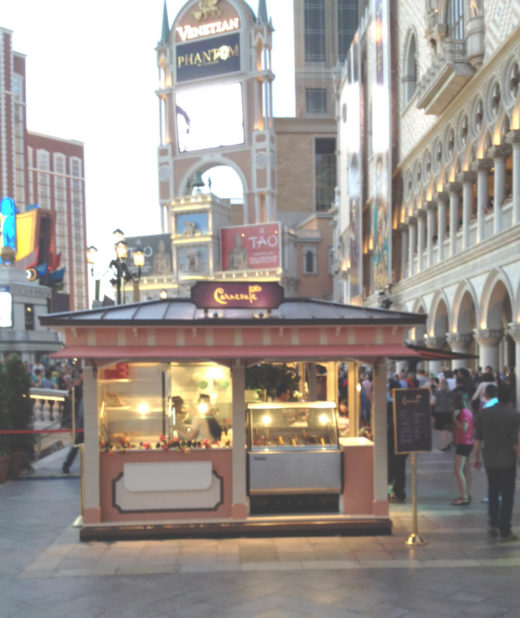 Casinos, conventions centers, arenas and stadiums have unique requirements that may include drawing submittals, incorporation of architectural design elements, outdoor locations, weather and theft proofing, mobility, high volume locations and unique products such as tobacco merchandising, humidors and grab-n-go products.
Gift shops managers and food service directors may need to provide services at a satellite location such as the lobby or in locations that are far away from the primary gift shops or restaurants.  Sometimes the unit may be the primary location.  Conventions centers may need to serve a lot of customers within a short time span when the conventioneers are on break from their meetings.
Carts, kiosks, RMUs and wall shops, provide an effective, low cost solution that can be moved if needed.  In addition to designing and manufacturing, our services include project management, engineering expertise to create the drawing submittals, color renderings, shipping and logistics support, installation and training.
Our customer partners have included food service contract operators, casinos and casino vendors, stadiums and stadium vendors, convention centers and convention center vendors, newspapers, sports teams, banks, branded retail and food item manufacturers and others.
We have completed projects for Harrah's, Caesars, The Venetian, Tropicana, Gaylord Hotel Opryland, RK Group, Toronto Blue Jays, Brighthouse Network, Everythings Twenty, Atlanta Journal Constitution, World Trade Center (Boston), Belle of Baton Rouge, Imperial Palace, Hoosier Park Casino, Puget Sound Conference Center, Jackson Rancheria Casino, Sunny Group, Famous Dave's, Plano Convention Center, San Antonio Convention Center, Jimmy Buffet Margaritaville, Fifth Third Bank, Daytona Tortugas, Boston Symphony, Jack Trice Stadium and more.