MFI serves the food service and retail markets with award winning, custom designed and fabricated merchandising units. Our products are essentially mini stores or movable restaurants.  Our products perform as functional and enticing revenue generators that literally "Turn Space Into Profit"™.  We provide you with a Customer Intercept Point™ in which to market and sell your products or services.  We offer you a full service "one-stop-shopping" resource that will result in an efficient and successful project rollout.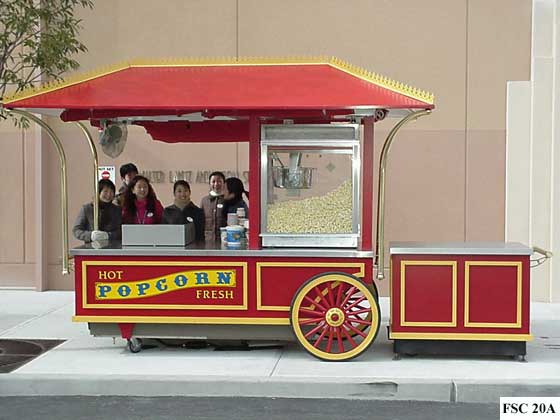 MFI products include custom: carts, kiosks, retail merchandising units (RMU's), wall shops, cash wraps, display fixtures, (point of sale and point of purchase), build-outs, retrofits, customer service centers, valet booths, in-line counter systems, merchandisers, and outdoor weatherproof units including pre-fabricated modular buildings.
Our market venues include: hospitals and health care facilities, educational institutions, business and industry, hotels/motels, the military, amusement parks and water parks, casinos, supermarkets, shopping malls and retail centers, convention centers, recreational and sports facilities, cruise ships, tourist attractions and parks, museums, zoos, convenience stores, financial institutions, airport and transportation facilities; virtually every place people gather.
Our customer partners include: the owners, developers, and managers of all our market venue locations, as well as: contract feeders, restaurant franchisers, concessionaires, major branded food and beverage manufacturing companies, leading edge retail businesses, goods and services manufacturers and distributors throughout the world.
Whether your products are retail goods and services or food and beverage services, common design considerations that we will address include: space allocation, mobility, durability, health codes, building and fire codes, security, lighting, product merchandising, utility accessibility, storage, climatic factors, flexibility/modularity of design, budget, and trade dress.
Both our retail and foodservice products can be designed to complement the unique architecture of the final location. Or, the units may be custom designed to exclusively market a specific product and maintain your brand integrity and consistency no matter where your product will be located.

"MFI is the extra hand, helping you maintain the integrity of your vision".
MFI food service carts and retail carts provide a quick, cost effective, and mobile solution to getting a product or service into the marketplace. Carts also provide retail property owners and managers with an innovative… Read more »