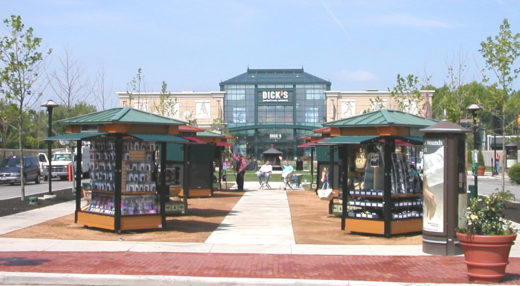 Retail shopping centers, malls and life style centers typically require that the units match the colors, finishes and architectural décor of each location.  The designs must be flexible enough to support a variety of temporary tenants each with unique products. Carts, kiosks and retail merchandising units or "RMUs" provide temporary tenant or specialty leasing programs with a mini store or a fixture that will sell a variety of goods and services.  RMUs are typically located in the common area and are leased by the retail center on a temporary or "specialty lease" basis. Designs must also include effective use of product lighting and signage, provisions for inventory storage, cash registers theft and weather proofing.
Products include: carts, kiosks, retail merchandising units (RMU's), wall shops, cash wraps, point of purchase or point of sale display fixtures, customer service centers, valet booths, and outdoor weatherproof units including, modular buildings. In addition to designing and manufacturing our services include project management, engineering expertise to create the drawing submittals, color renderings, shipping and logistics support, installation and training.
These products provide you with the ability to merchandise, demonstrate and sell a variety of consumer products and services.  From cell phones and wireless services, electronics, jewelry, clothing, footwear, souvenirs, gift items, toys, sunglasses, books, newspapers, magazines, candy, baskets, leather goods, accessories, convenience items, real estate, time-shares, information services, eyebrow threading, banking, cupcakes, pizza, pastries, cookies, pretzels, coffee, teas, smoothies and more.
Our customer partners have included Specialty leasing or Temporary tenant managers, of Shopping centers, Outlet malls, airport and train stations, franchisees, licensed product merchants, branded product manufacturers, marketing companies, food service and retail concessionaires, banks and other services.
We have completed projects for: Simon Properties, General Growth Properties , Premium Outlets, Jones Lange LaSalle, CBRE, CBL, Brixmor, Colonial Properties Trust, Navy Exchange (NEXCOM), The Prudential Center (Boston Properties), The Metron (Sony Development), Crocker Park, Legends (Red Development), Tejon Mall, Green Hills Mall, Pyramid Management Group, The Loop (FL), Little Tokyo, St. Clair Square, Point Orlando, Canpro Investments (Quebec) and many more.