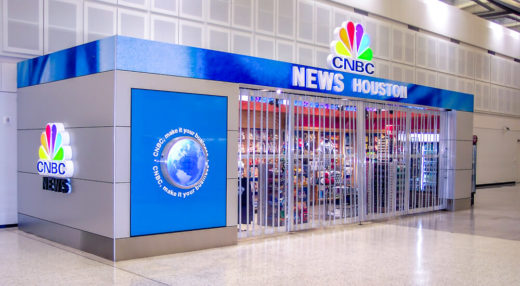 MFI foodservice kiosks and retail kiosks provide a quick, cost effective alternative to leasing or building a retail store or restaurant. Kiosks are typically located in the common area of airports, retail centers, hospitals, museums, amusement parks, stadiums and convention centers.
They may be engineered for interior or exterior environments and are designed with features from wheels, to knock down walls, to interchangeable modules and fixture units. Kiosks are larger and less mobile than carts and retail merchandising units (RMUs). However, like our custom carts and RMUs, all MFI kiosks start with a welded and painted metal interior framework. This metal "skeleton" provides the structural strength that sets MFI kiosks apart in the marketplace.
A kiosk may be designed as a simple straight line of cabinetry with or without an overhead canopy. It may be on wheels and/or it may include leveler legs. A kiosk may have a "U" or an "L" shape footprint or it may be designed as a cube of cabinetry that surrounds the merchant. A kiosk may also be a small building-type structure with walls and rolling security gates. This larger style kiosk may be designed to allow the public to enter the interior, thereby creating a freestanding store or restaurant.
MFI manufactured kiosks include options for: refrigeration, sink and water systems, hot food wells, cold food wells, menu systems, almost any type of restaurant equipment, signage, cash drawers, retail display fixtures, shelving, lighting and electrical, canopies, and security. We can coordinate all site preparations for electrical and water services. MFI kiosks are typically set up overnight so that you may open for business the next day.