Project Management and Engineering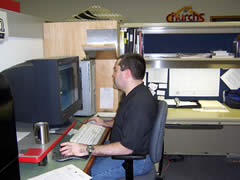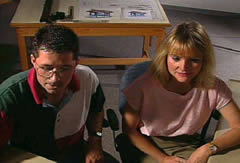 The MFI Project Engineering Team offers a combined 75 years of project leadership experience in the construction, sign, and furniture manufacturing industries. They listen and understand your goals. They have the industry expertise and technology to design and oversee your project, and can quickly provide the services and solutions you need for your custom pushcart, kiosk, RMU, merchandiser or pre-constructed building.
The MFI Project Engineering Team uses an extensive engineering reference library with equipment specifications, a computerized OEM equipment library, material samples, material fire ratings, building codes, fire codes, electrical codes, health and sanitation codes, ADA regulations, and several thousand CAD drawings from past projects.
In addition to AUTOCAD and other technology tools, they use project-planning software to ensure that the planning of your project milestones results in a schedule that meets your requirements. For our documentation services we offer three-dimensional and two-dimensional drawings with full-size color plotting and printing capabilities on several types of media for all types of exhibits and submittals. Through our internal resources and collaboration with our supplier partners and you, our client, the team provides the following documentation and planning services. 
Design and Documentation Services
Renderings and elevations (interior and exterior)
Electrical schematics, plumbing and HVAC diagrams, finish schedules
Equipment layouts and specifications
Structural and mechanical designs
Construction drawings
Code compliance submittals and exhibits
Certification calculations, wet sealed drawings
Installation instructions, care manuals
Planning Services
Cost estimating
Value engineering
Site evaluations
Construction plans
Project scheduling
Subcontractor and landlord liaison
Crating and shipping plans
Installation and training plans
Facility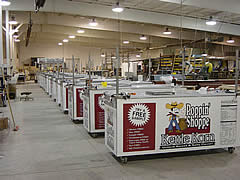 We have the right resources to bring your vision to light. Our 62,000 sq. ft. facility is located in Winterset, Iowa, the home of the "Bridges of Madison County" and the birthplace of John Wayne. Winterset provides the opportunity to recruit and retain dedicated craftsmen with a work ethic and pride in quality that is evident throughout the Midwest. Our close proximity to Des Moines provides the services and transportation available in major metropolitan areas.
Our facility was planned and built specifically to optimize our manufacturing processes for carts, kiosks, RMUs, custom merchandisers and small commercial modular buildings. The finish area is in an enclosed 5,000 sq. ft. room with separate climate controls to provide a dust free environment. It features a computerized Colornet™ paint mixing station with over 100,000 paint formulas.
More than 5,000 sq. ft. is dedicated to raw material and finished goods warehousing. It includes dedicated space for the storage and kitting of foodservice equipment, signage and other collateral items that will be shipped with the MFI fabricated units. This consolidation provides you with a single source delivery of everything required for you project.
Equipment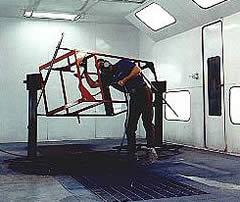 With our cutting, shaping, assembly, laminating and finishing capabilities, we have the luxury of an up-to-date tool box. Our cabinet grade wood shop features the latest in sawing, sanding, joining, drilling, and shaping equipment. Our metal shop features MIG, TIG, and spot welding equipment, shears, press breaks, saws, and shaping equipment.
Our finish department features a downdraft automotive paint booth with a two million BTU air make-up heating unit. Our equipment complement has been planned specifically to optimize our manufacturing processes for our custom built carts, kiosk, RMUs, merchandisers and small commercial modular buildings.
Customer Care and Service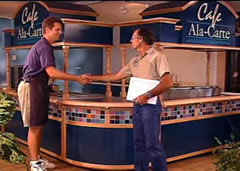 Everyone at MFI strives every day to provide the utmost in customer satisfaction and service. We proudly stand behind our products and treat after sales service as an important component of total customer satisfaction.
If an MFI cart, kiosk, retail merchandising unit (RMU), custom merchandiser, or one of our commercial modular buildings requires factory service, our service department is available via a 24 hour 800-number.
Most replacement parts are shipped within 48 hours. Our customers approve a cost estimate before any out of warranty repair is completed.