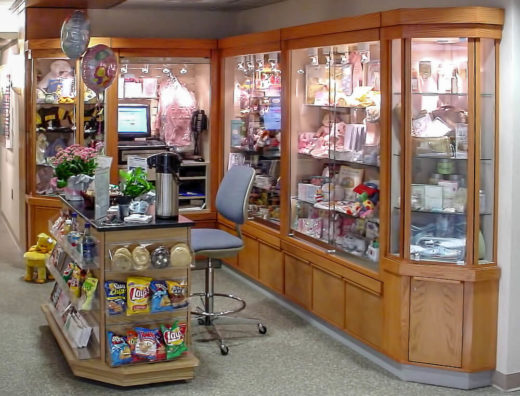 Hospitals and medical facilities have several unique requirements that sometimes include the ability for the units to be operated by elderly volunteers.  Design considerations may include ease of opening and closing and the weight of the unit if it is going to moved often.  Hospital gift shops managers and food service directors may need to provide services at a satellite location such as in the ER, the lobby, or in locations that are far away from the primary gift shop or cafeteria.  Sometimes the unit may be the primary location.  Many times, the office space occupied by the gift shop is converted to medical services.  Cardio and wellness centers require cooking demonstration carts.  Senior living facilities may want to offer gift items or hydration carts on a room to room basis.
Carts, kiosks, RMUs, and wall shops, provide an effective, low cost solution that can be moved if needed.  In addition to designing and manufacturing our services include project management, engineering expertise to create the drawing submittals, color renderings, shipping and logistics support, installation and training.
Our medical venue customer partners have included owners of private and non-profit hospitals, medical centers, senior living facilities, nursing homes and mental health facilities.  Also, gift shop managers, volunteer organizations, food service directors, contracted food service managers, bookstore providers, nutrition services organizations and private donors.
We have completed projects for Mt. Sinai in NYC, Greenwich Ct, Northwestern (Chicago), WellStar (Atlanta), University of Iowa, Ronald McDonald (Philadelphia and NYC), Union Memorial (Baltimore), South County (Rhode Island), Texas Childrens, White Memorial (Los Angeles), Memorial Northwest (TX), Mercy (Des Moines), Sisters of Providence (MA), Connecticut Mental Health, St. Luke's (Kansas City), Northwest (TX), St. Clair County (MI), Jupiter (FL), Riley Children's (IN), Cape Coral (FL) Moravian (PA) and numerous nursing homes and care facilities throughout the country.